To reserve your charter, please complete the Reservation Information Form  for the pakage of your choice, or call Karla Carreiro at Sportfish the Cape Charters on 508 945-5227. Karla will provide all of the appropriate information, book your day and also set up a phone discussion with you and Captain Eddie to discuss your upcoming fishing trip and get you ready for the "big day"! You will receive a confirmation letter from us upon receipt of your deposit.
A 50% deposit is required at the time of booking or within three business days to reserve your charter date. Remittance can be placed on Master Card or Visa credit cards or a personal check. The check should be mailed to:
Captain Eddie Carreiro 
Sportfish the Cape Charters
117 Lakeshore Drive
Chatham, Ma. 02633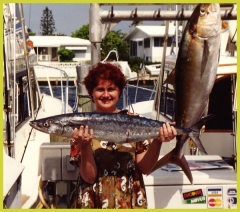 Cancellation within two weeks of the trip date will result in loss of deposit. Only the Captain can cancel and reschedule due to inclement weather.
  Karla Carreiro of  Sportfish The Cape

What to bring:
Soft sole shoes (other than black) are required for the boat.Take sunscreen, sun glasses and rain gear in the event storms roll in. Please bring a cooler with your snacks and beverages. If you are booking for a full day, please bring your lunch and any other energy boosters you require. You should bring an additional carry on to transport your "catch of the day" home.