White Marlin, Yellowfin Tuna, Giant Bluefin Tuna,
Striped Bass, Bluefish, Blue Marlin,
Sportfishing Tournaments
You Name It, We Catch It!
With a 41' Vessel named "Reel Attitude", this seaworthy vessel is rigged for serious fishing. "Reel Attitude" is definitely angler-ready and has a compliment of custom International reels in all sizes, integrated electronics that can spot fish under any climate conditions, a 25 ft. tuna tower ready to lure all blue water anglers and a Scopinich Fighting Chair that's ready to shout the words FISH ON!
Sportfish the Cape Charters is available for the beginner to the most serious fishing pro. We navigate throughout the Northeast Coast of Massachusetts from the tip of Provincetown to the canyons south of Nantucket. The Captain, Eddie Carreiro has logged over 39 years of fishing experience in both U.S. and international waters.
Our charters sails from Allen Harbor Marine in Harwichport, Massachusetts located at 335 Lower County Road, Harwichport, MA 02646. We cover some of the best spots to catch fish. Reservations are required a head of time and all bait and tackle is available for up to six persons. We specialize in Tuna, Striped Bass and Bluefish. We're all about catching fish and providing custom charters that have you coming back year after year. Fishing with Captain Eddie is quite an adventure and guaranteed solid fish action. Join us, you'll see!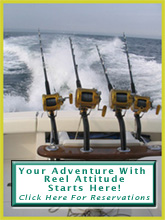 2008 Fish-On News from the Captain
Think the season got off to a slow start? This just wasn't the case for the vessel, Reel Attitude, Captain Eddie and her first mates, Eric Awalt and Steve Kean. She landed her 1000
th
Bluefin Tuna even with a slower economy, gas prices up, and many fishing anglers wondering whether they would be able to make it out on the water this year. Even though we were all confronted with challenges, we still fished and moved the boat to as many strategic spots to forget our worries and catch the big one each and every time. There's just something about being out on the water and enjoying the fruits of our fishing labor.
Read more...